Happy Birthday Prince,
love everyone here at boom 99.7
Do you know why June 7th is such a special day? Because on this day in 1958 a star by the name of Prince Rogers Nelson's was born! Or better known as his stage name: Prince! Or later on known as, well, a symbol. We'll get to that. But first let's go over some of the moments that solidified him as the funk, R&B, rock, soul, and pop legend we'll all love forever!

---
Kiss
Prince's song Kiss, released in 1996, is a testament to Prince's musical talent, but it also showcased the confidence he exuded to dress androgynously and be authentically and unapologetically himself. Men can wear makeup, sparkles, and crop tops, despite what society tries to force the people to believe. Prince composed, produced, wrote, and sang Kiss, all while breaking outdated gender norms. Also, the first 5 seconds of Kiss is so distinct and recognizable that anyone listening would know right away exactly whose beautiful voice they were about to hear. Plus, song is extremely catchy, isn't it?
---
Controversy
Prince's song Controversy, released in 1981, has lyrics that truly speak for themselves, but let's still dissect them anyway. "I just can't believe all the things people say. Controversy. Am I black or white, am I straight or gay? Controversy. Do I believe in god, do I believe in me? Controversy. I can't understand human curiosity. Controversy. Was it good for you, was I what you wanted me to be?" Being a celebrity in itself is a life under a microscope, but imagine being a more feminine presenting man. Prince was constantly questioned about what his sexuality was, what his race was, what his religion was, and so on. Prince was simply living his life, whereas it was the tabloids, reporters, and media complicating everything and creating the controversies. We're proud of Prince for speaking out because at the end of the day, he didn't need to answer anyone's questions.
---
Purple Rain
Purple Rain, from Prince's 1984 album of the same name, has proven that it's one of the best songs ever created because it's been loved for the past 3 and a half decades since it's release, and has even placed on The Rolling Stone's "Greatest 500 Hits of All Time" reaching #144 on the list. Being such a legendary song, the listeners all wanted to know what Prince meant by the term 'Purple Rain' to which he replied, "When there's blood in the sky – red and blue = purple … purple rain pertains to the end of the world and being with the one you love and letting your faith/god guide you through the purple rain." It's truly a heartfelt meaning – despite all of the horrible things happening in your life and in the world, surround yourself with loved ones and push through to better days.
---
1999
1999, from Prince's 1982 album of the same name, was released during a time which had held a decades-long record of being the closest the world has ever come to a nuclear war. Prince chose the name of the song to be 1999 because it was a nod to the Y2K popular belief the world would end at 11:59pm on December 31st, 1999. Everyone thought the clocks on computers would not be able to format the digits properly, thus causing all technology, and the world as they knew it, to crash. Despite the world having a generally pessimistic view of the impending doom, Prince brought a positive twist on it by reminding his listeners that if the world was ending, 1999 would be the greatest farewell party ever: "Two-thousand-zero-zero party over, oops out of time, so tonight I'm gonna party like it's 1999." Prince even mentions the sky being purple in 1999's lyrics, which would be the main theme of his album released 2 years later.
---
Prince Became A Symbol
"The Love Symbol"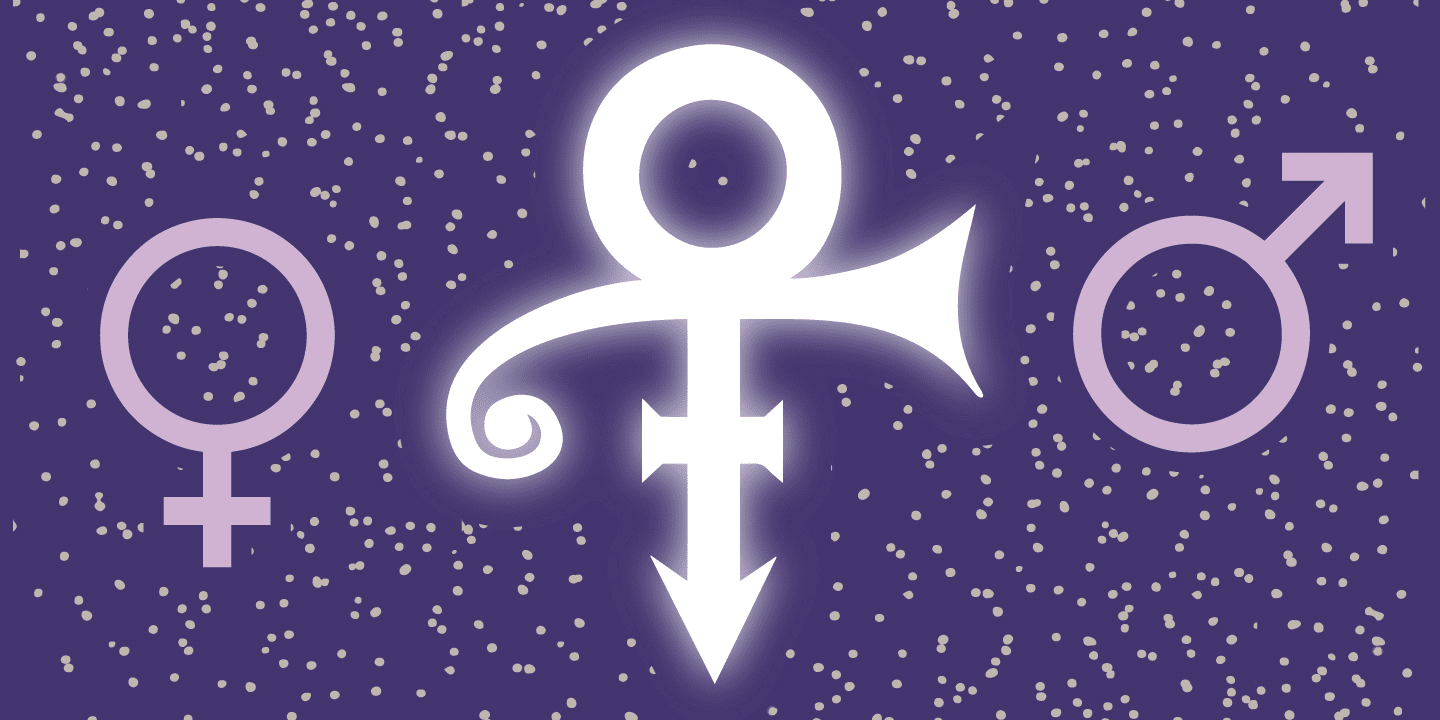 In 1993, Prince announced that he would no longer go by his birth name, but rather by a "Love Symbol" which was a combination of the gender symbols for woman and man, along with other potential references and symbols mashed in (like the Eye of Horus swirl on the left side). The public was also led to believe that this change was sparking by his distaste with his record contract, as he went back to his original name, Prince, as soon as his contract expired. Regardless of his reasoning behind the change, we love to see a music legend representing the gender symbols equally.
---
Join us in celebrating the birthday of this androgynous icon! Prince's life
will always be remembered by his songs, but also for his passion for living and dressing exactly how he wanted. 
What's your favourite Prince song?
And don't forget to listen for more of the greatest songs of the 70s 80s 90s.