Don't miss the fun, music, and activities at this year's Ottawa River Festival at Du Moulin Park.
Friday June 28:  Movie Under The Stars
-Enjoy the Disney film, "Jungle Book" beginning at 9:00 pm.  Don't forget to bring your blankets and lawn chair. In the event of rain, the movie will be shown at The Optimist Performance Hall.
Saturday June 29:  Fire & Ice Comedy Science Show
-At 3:00 pm, Mad Mike will educate participants of all ages about the scientific principals of fire and dry ice in entertaining and funny ways. 
Saturday June 29 – Sunday June 30:   Multiple Activities
-12:00 pm – 4:00pm: Celebrate local art with the Clarence-Rockland Arts' Association.  The Kids Fun Zone will keep the little ones busy with inflatable structures, face painting, performers and other family friendly activities.
-12:00 pm, 1:45 pm & 3:30 pm – Professional Water Sports Stunt Show
Summer Water Sports' unbelievably entertaining shows consist of sky skiing, barefoot skiing, clown acts, paddle skiing, wakeboarding, flyboarding, and more. SWS' world-class athletes will inspire awe, and will leave you craving more!   Shows last approximately 40 minutes.
Trilogy Classics Live is a group of 5 musicians peforming the songs you know and love from Journey, Foreigner, and Styx.  Couple them with Rock Story, a musical revenue, famous on the Quebec showbiz scene for 10 years, featuring classic hits from the 70s, and 80s, and you have ONE incredible show, on The Desjardins Stage, Saturday June 29 beginning at 8:00 pm. Wristbands are $20.00 in advance, available at City Hall, caisse populaire Desjardins, and Jean Coutu, all in Rockland.  Click Here For Your Advance Tickets On Line.  Or $25.00 the night of the show.
The Clarence-Rockland Beer Garden brought to you by the Clarence-Rockland Chamber Of Commerce, sampling local brews, and domestic products will be on site through out The Ottawa River Festival!

Dinner and French Comedy Show with Martin Petit, Sebastien Bourgault and Guests
The dinner and comedy show is always a sell out Saturday June 29, with the buffet supper at 5:00 pm, and the show beginning at 8:00 pm on the Desjardins Stage. In partnership with Les 4 Saisons de l'Humour

$60 for dinner & show
or $450/table (max. 8 people) /
$30 show only ($35 at the door)
 Supper brought to you by Cuisine Gimy
(vegetarian/gluten free options available)

RSVP Dinner & Show at 613-446-6022 x 2247 
SEBASTIEN BOURGAULT:

One of the best-kept secrets of the entertainment industry, Sebastien Bourgault is the archetypal of the endearing stand-up comedian. His world is delusional and unfiltered but still rooted in reality. He has opened for Martin Matte, Lise Dion, André-Philippe Gagnon and Mike Ward. His experience gives him a sense of repartee that is hard to match.
MARTIN PETIT:
Martin Petit is a Quebec comedian, actor and screenwriter. His three shows – "Grandeur Nature" (2000), "Humour Libre" (2004), "Martin Petit et le micro de feu" (2010) – all received the Olivier for Quebec's stand-up comedy show of the year. His first film, Starbuck, became the most popular Canadian film of 2011. Recognized for the originality of his ideas and the quality of his stage performances, Martin Petit is one of Quebec's most popular comedians.As a host of galas, Martin Petit made his mark by hosting several Just For Laughs galas and the Olivier's Gala (2007, 2008), which celebrates Quebec's best comedians. He also hosted on NRJ radio program "Le monde est Petit" from 2005 to 2007. As an actor he marked the audience for his role as Martin, Guy's roommate, in the popular series, "Un gars, une fille".
*In the event of rain, the show will take place under the marquee.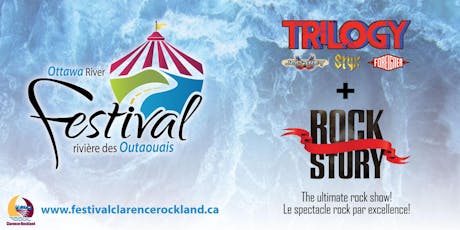 Sunday June 30: Edge Water Car Show
12:00 pm – 4:00 pm: Admire over 100 impressive vehicles and meet Twiggy Tallant from the popular American television show Vegas Rat Rods. 
12:00 pm – 4:00 pm: Try a paddle boat, kayak and other low impact water sports on the Ottawa River. Lifejackets can be provided. Participants must complete a waiver.
-2:00 pm – 2:30 pm:  Dr. Bone Kids Show: an interactive and hands on show where participants learn about anatomy while having their funny bone tickled.
Canada Day is worth celebrating locally at home in Clarence-Rockland at Du Moulin Park, with activities all day:
9:00 am – 12:00 pm:  Pancake Breakfast at Jean-Marc Lalonde Arena, with the Clarence-Rockland Fire Department, and the Volunteer Firefighters Association, with proceeds benefiting  Muscular Dystrophy.
12:00 pm – 1:30 pm: Ceremony includes flag raising from 832 Ottawa Twillick Squadron Air Cadets, words of welcome from local dignitaries and Rockland Community Band show.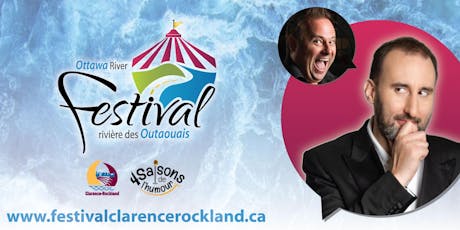 12:00 pm – 5:00 pm: Watersports:  paddle boat, kayak and other low impact water sports on the Ottawa River. Lifejackets can be provided. Participants must complete a waiver.
12:00 pm – 5:00 pm: Art Exhibition:  see some incredible work from The Clarence-Rockland Arts' Association
1:00 pm – 3:00 pm:  Free swimming at the YMCA in Rockland
Stay all day for even more entertainment, and shows, Born Again Sinners, and Syndicated Blues brought to you by Allister Beauchamp
2:30 pm – Science of Magic (Kids Show)
6:00 pm – Marc Bélanger
7:00 pm – Born Again Sinnerz*
8:00 pm – Syndicated Blues*
9:00 pm – Les Rats d'Swompe
10:30 pm – Les Rats d'Swompe (part 2)
And cap off your evening with fireworks on The Ottawa River at dusk